School Production - Billy Elliot
Our latest whole school production took place 15-18 February 2022 and was an absolute triumph!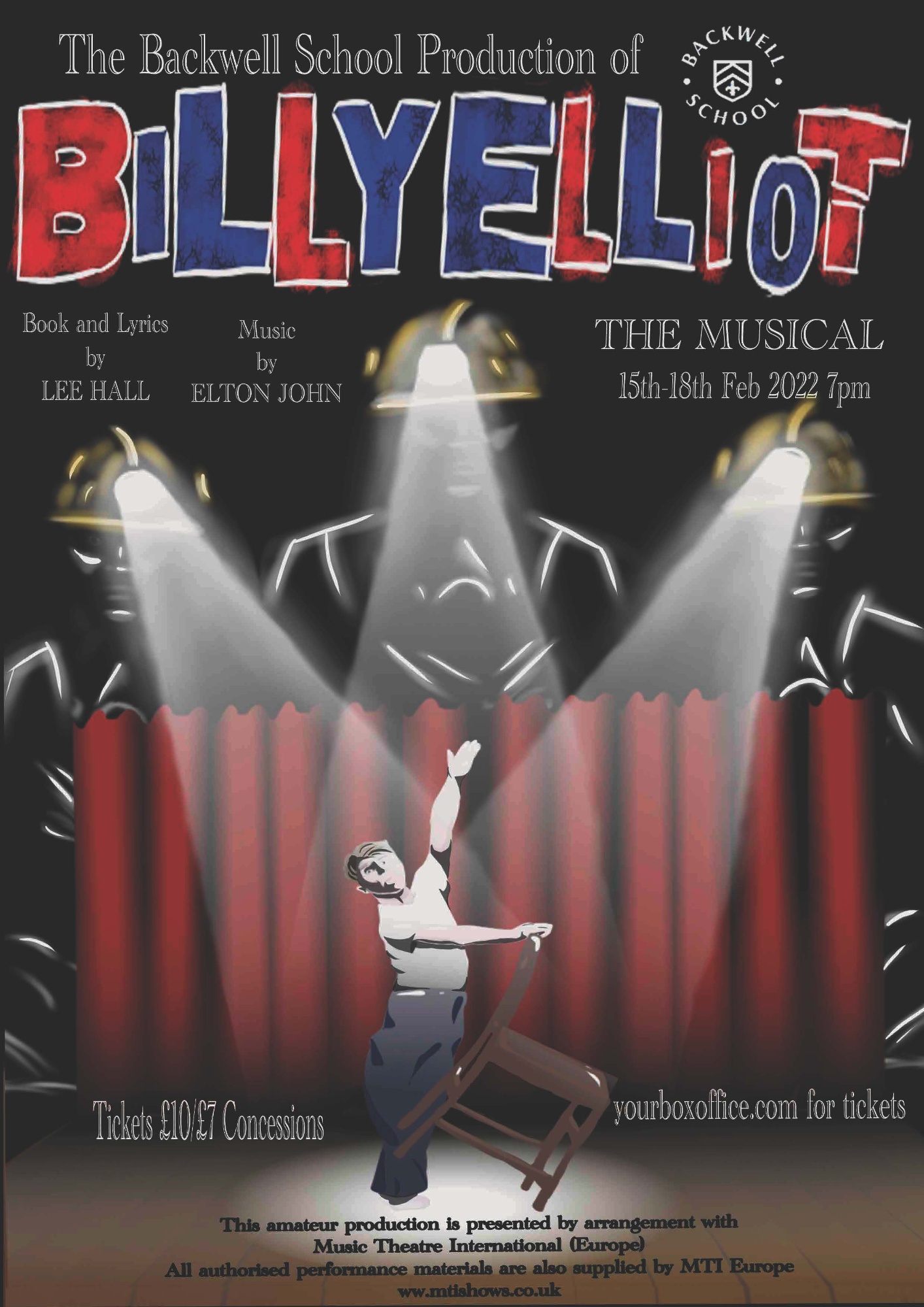 One highlight of the Backwell School calendar is the biennial whole school production which returned in February 2022 with an 'electric' production of Billy Elliot.
Our productions have quite the reputation and previous performances have displayed high levels of quality and talent. Our latest show certainly did not disappoint but perhaps Billy Elliot was possibly even more incredible due to the challenges the cast and crew have faced since September; rehearsing in masks, cast members with COVID-19, concerns that audiences would not be allowed, bad weather etc.
Many may be familiar with the film and thus the storyline of Billy Elliot: set in a northern English mining town against the background of the 1984 miners' strike, Billy Elliot is the inspiration story of a young boy's struggle against the odds to make his dream come true – to be a ballet dancer. The stage show takes the story and features music by Elton John and lyrics by Lee Hall.
The show delivered so many powerful moments; from tense and angry protests scenes to moving moments of reflection and soaring happiness as Billy achieves his dream. There were placards hanging from the ceiling of the theatre which really helped set the atmosphere and the raised bedroom (on a specially built scaffolding tower) allowed Billy's emotional songs in memory of his mother to really stand out. The children mastered ballet and tap, and perfected northern accents – their talent and dedication is astounding.
A school production on this scale is no mean feat: 46 students made up the cast, 17 forming the orchestra and another 16 'behind the scenes' as the stage crew. An 'army' of staff are also involved; making costumes, building set, directing, producing, supervising etc.
Emily Merry, Teacher of Drama and Director of the show was blown away with all the children involved "I am in awe of the young people with whom we have had the pleasure of working with. Their herculean commitment has been astounding, with parallels to the triumph of Billy's dreams in the face of adversity."
Being involved in a production is really enjoyable for the students, it teaches them new skills and helps create long-lasting memories. Tristan is in Year 9 and played Billy and said this when asked about the whole experience "If I had to sum up the experience of being part of the show in three words I would say it would have to be: exhilarating, supportive and exciting. It has helped me grow in confidence and I have enjoyed learning and trying our new things. Everyone has been so supportive of each other and I have made new friends across all year groups".
The show was a sell-out – thank you to all of those who supported the school by coming along. We have received wonderful feedback from those who attended:
"Truly fantastic performance and reflected all the hard work, commitment and enthusiasm from everybody that was involved."
"It was a totally amazing show which I can't stop thinking about."
"I came to see the production of Billy Elliot and I was astonished! It was absolutely brilliant and undoubtedly the best school production I have ever seen."
The production was an amateur production presented by arrangement with Music Theatre International (Europe).
All authorised performance materials are also supplied provided by MTI Europe.
www.mtishows.co.uk